Scabies Treatment & Causes
Scabies Treatment and Preventive Measures
Scabies refers to an infestation by the itch mite, Sarcoptes scabiei. Mites are small eight-legged parasites (in contrast to insects, which have six legs). They are tiny, just 1/3 millimeter long, and burrow into the skin to produce intense itching which tends to be worse at night.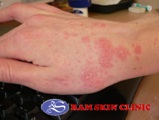 The mites which cause scabies are not visible with the naked eye but can be seen with a magnifying glass or microscope.Scabies is also called "Family disease" as it affects all the family members .Scabies spreads by close skin to skin contact and its predisposed by malnutrition, overcrowding and poor hygiene .Scabies can be diagnosed and treated by a qualified Dermatologist using drugs like Sulphur, Permethrin, Ivermectin, lindane etc. Prevention can be done by proper hygiene, medicated soaps etc.
Useful External Links on Scabies Treatment
Are you looking for Professional Scabies Treatment?
Visit Ram Skin Clinic or Click here to Fix Online Appointment
Ram Skin Clinic offers Affordable Treatments for Scabies and all types of skin disorders.