Alopecia Treatment -(Alopecia Areata)
Treatment for Alopecia also known as Spot Baldness
Alopecia Areata [AA] or "spot baldness" is an autoimmune disease of the scalp and other hairy areas of skin. In this disease body's own cells destroy healthy tissue like hair follicle and cause temporary hair loss. AA presents as small bald patches with normal underlying skin. This condition is usually associated with other autoimmune disorders like Diabetes , thyroid disorder etc. This condition can causes single or multiple bald patches on any hairy area of skin specially on the scalp. Alopecia areata is reversible condition and can be managed easily with topical and oral medicines.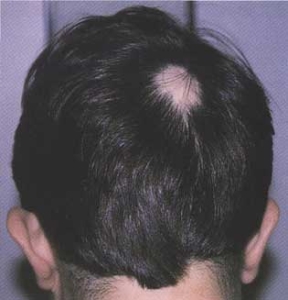 Useful External Links on Alopecia Treatment and Causes
Are you looking for Alopecia Treatment?
Visit Ram Skin Clinic or Click here to Fix Online Appointment